Begin of page section: Content
We Are Europe: Elevate visits Nuits Sonores/European Lab in Lyon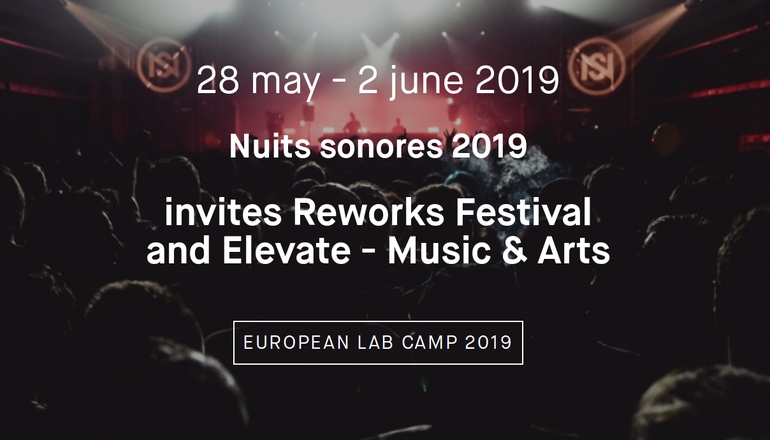 Nuits Sonores
Nuits Sonores is a French festival entirely dedicated to electronic, independent, visual and digital cultures where music, design, graphic arts and architecture are intimately connected. Each year, the festival takes over about 40 locations across the city. Over 250 locations were used and redesigned including art galleries, industrial wastelands, rooftops and swimming pools. This encourages the public to wander and discover the festival on foot, by bike or by public transport. Nuits sonores aims to be the decoder for past, present and future innovative cultures. This unique and curious mind-set brings together headliners and new discoveries, popular music and niche music from local, national and international scenes. For 16 years, the festival has transformed the city of Lyon into a place of freedom for five days and five nights, a giant playground for those who love and share this culture and spirit of quality music, curiosity and encounters.
Elevate presents the following artists as part of the cooperation:
Jon Hopkins on Wednesday 29.05.2019
Dorian Concept on Thursday 30.05.2019
Ison b2b Feelipa on Thursday at European Lab
More Info:
https://weare-europe.eu/en/events/nuits-sonores-2019
European Lab Camp
Created in 2011 with the European Union's support, the European Lab is a European platform for exchanges and thought which gives a voice to new European generations in culture, creation, innovation, new media and entrepreneurship. The capacity of these young generations is more important than ever. The opportunity to make them heard accelerates a widely-shared feeling of our ever-changing world in the cultural sector (distribution, knowledge sharing, education, training, information circulation). These themes are discussed throughout the whole year in all of Europe by the European Lab, during the annual forum in Lyon and at the European Lab sessions that take place regularly across Europe in collaboration with other platforms, networks and festivals.
Elevate has contributed to the following sessions of the European Lab Camp 2019:
Workshop: Refugee of Disinformation: Welcome! - Friday 31.05.2019
Mobilisation 3.0 : Which Story-Telling for today's Challenges? - Friday 31.05.2019
Algorithms: Manipulators and Chaos Creators - Saturday 01.06.2019

More Info:
https://weare-europe.eu/en/events/european-lab-camp-2019
End of this page section.
Skip to overview of page sections.