// Elevate Compilation 2007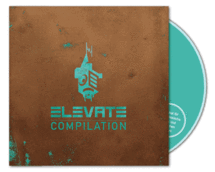 Elevate presents 17 austrian artists who already played or will be playing at the festival.

17 tracks showing a wide musical spectrum.
Bands like Naos, Jakuzis Attempt and Le TamTam, Techno by Clara Moto, Mars, or Kabelton, Dubstep by Amtrak and Any Maniac, Vocal Electronic by Mimu, HipHop Beats by Element012 or Simon/off and IDM by Photophob, Dorian Concept, Onkel Tuca, Winterstrand, Frida Kore and Rmf.

Some of them are already getting international feedback while still being unknown in Austria.
Mailorder soon at www.substance-store.com
Tracklist:
01 MIMU - LOOK BACK
02 NAOS - WHY DRY
03 LE TAMTAM - ELECTION DAY
04 ONKEL TUCA - HASENFELD
05 WINTERSTRAND - RECOVER
06 PHOTOPHOB - MODERN UTOPIA (SIGNING UP FOR A)
07 JAKUZIS ATTEMPT - TRY NOW
08 KABELTON - GOKEWESO
09 MARS - SEARCHING
10 CLARA MOTO - I DON´T LIKE HORSES
11 ELEMENT012 FEAT. MC.CONFUZ - THINK WALK WANDER
12 ANY MANIAC - TELE DUB
13 AMTRAK - ELEVATE YOURSELF
14 RMF - STAY SQUARE
15 SIMON/OFF - THE LIGHT
16 DORIAN CONCEPT - WATER THANK YOU
17 FRIDA KORE (STP CREW) - STOERFUNK
Mastering: Philip Zauner, Wolfgang Christl