Begin of page section: Content
Film World Premiere: Die Mission der Lifeline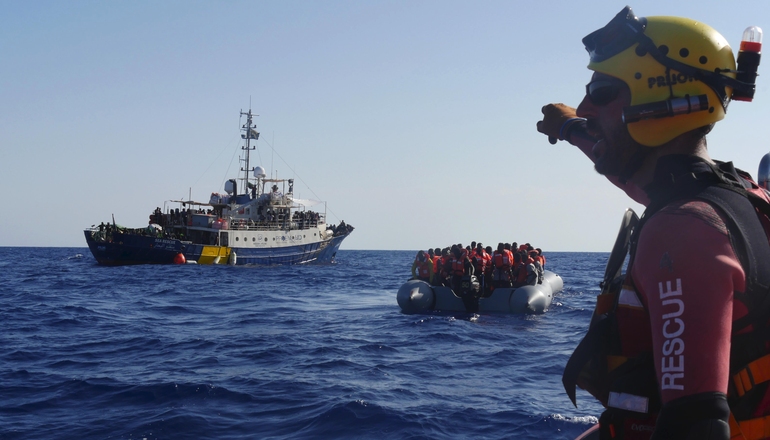 DE, 2019, 68 min, German, English and Spanish with German subtitles
Directed by: Markus Weinberg, Luise Baumgarten

They were sued, shot at and blocked. How a group of Dresdeners, against many odds, brought a ship into the Mediterranean Sea to save people from drowning.
Their purpose: to save refugees from drowning. For this, Axel Steier and his team from the Dresden sea-rescue NGO "Mission Lifeline" have worked tirelessly for years to collect donations. Together with two Spanish NGO's, they finally manage to buy their own ship and set off to the Mediterranean. In his hometown Dresden, Axel's idea finds many friends but just as many enemies. And then, the truth at sea – oil leakage, refugee boats sinking before their eyes, even gunfire by Libyan militia. For two years, we accompanied Axel and his team with our camera – even onto the ship just off the Libyan coast, where the struggle to save people from certain death ultimately also turns into a fight for the European idea.

Mission Lifeline achieved international fame when the association's ship in June 2018 with 234 rescued refugees on board searched for days for a port because no country allowed the crew to moor.

+++

Admission: 6 Euro (or more) - All income (less room rent) will be donated to Mission Lifeline for its next mission.

Ticket sale: start at 19:00 at Schubertkino. Limited seats available. Be there early.

+++

The screening will be presented by Elevate, Seebrücke Graz and Crossroads, co-presented by KAMA Graz, FORUM STADTPARK, uniT, Dokuabende Graz, schaumbad, < rotor >, Caritas Akademie, Evangelische Pfarrgemeinde Graz-Heilandskirche, Grüne Akademie, Südwind Steiermark, Flüchtlinge Willkommen, ZEBRA und ÖH Uni Graz (Alternative Speech and Representation of Philosophy Studies).

End of this page section.
Skip to overview of page sections.