Begin of page section: Content
Elevate Extended: Modeselektor in Graz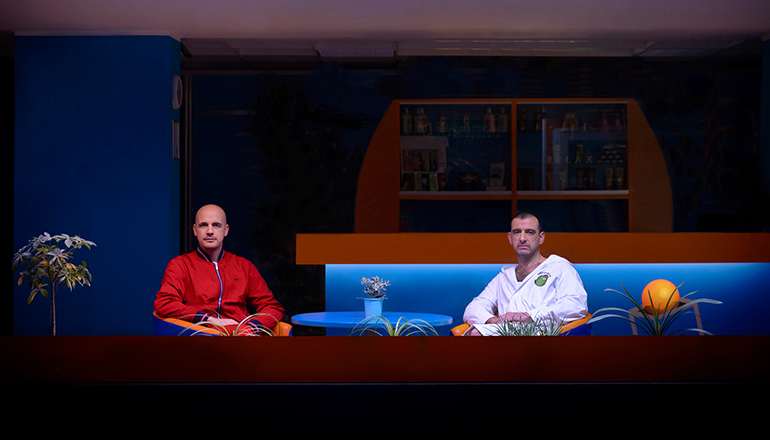 28.8.2021, KASEMATTENBÜHNE / SCHLOSSBERG / GRAZ
For more than two decades now, Gernot Bronsert and Sebastian Szary have been on the road in the broad field of electronic music and have programmed their way through the many varieties of this sound world with their project Modeselektor.

In 2020, due to the pandemic, the duo spent more time in the studio than ever before and went on a treasure hunt in their own archive. They reshaped old tracks, constructed new ones and put the mixtape together bit by bit - as a response to the chaos and uncertainty of the outside world.
The result: a 27-track mixtape of unreleased and brand new music that brings the unique, high-energy live experience of a Modeselektor show into listeners' living rooms. "Extended" will be followed by a series of EPs, each focusing on one track from the mixtape and featuring alternate versions, remixes and a variety of collaborations.
From the living room, their path now leads them back to the big stage at Schlossberg in Graz to present Extended live.

As support: Dalia Ahmed. Dalia Ahmed is a radio host and music journalist at Radio FM4, where she presents Hip Hop, Afrobeats, RnB and more every Saturday night in Dalia's Late Night Lemonade. A show dedicated to hip hop, rnb, afrobeats and more. When djing Dalia's music selection becomes a bit rougher with a selection of global club sounds.

The official afterparty will be hosted by the Graz-based collectives disko404 and I'm In Love With at the Parkhouse Graz.

>> COVID-19: 3G detection and registration
Our audience is required to show proof of a so-called "low epidemiological risk" at this event. Proof of this at this venue is the 3G rule (tested, vaccinated or recovered).
Please have the respective required documents ready for presentation in the entrance area of the venue, otherwise we will not be able to grant you admission to the event.
To enable the authorities to quickly contact tracing in case of infection, all visits to this event will be registered (surname, first name, telephone number, email address if applicable).

This Event is presented by We Are Europe.
5.8. - 28.8.2021, Dom im Berg / Schlossberg / Graz
On the same day, there will be one last opportunity to experience Brian Eno's sound- and image-intense installation "77 Million Paintings" at the Dom im Berg. In addition, Eno's version of elevator music brings us musically up the mountain in the permanent sound installation "Music for Elevators" in the Schlossberg lift.
Tickets for all additions to the programme until the end of August can be found in the >> Ticketshop.
End of this page section.
Skip to overview of page sections.